Embark on a Thrilling Journey with


VR Cycling
Immerse Yourself in Virtual Reality and Revolutionize Your Indoor Cycling Experience
Get ready to revolutionize your indoor cycling routine with Virtual Reality Cycling. Step into the immersive world of virtual reality and embark on thrilling cycling adventures from the comfort of your own home or gym. Our cutting-edge VR equipment transports you to breathtaking landscapes, challenging terrains, and exhilarating race tracks, making every pedal stroke an unforgettable experience. Whether you're a fitness enthusiast or a cycling enthusiast, Virtual Reality Cycling offers engaging training programs, interactive challenges, and multiplayer races to suit all levels of expertise. Enjoy the benefits of a full-body workout, improved cardiovascular endurance, and a truly immersive cycling experience. Transform your indoor cycling sessions into exciting virtual journeys by contacting us today and discovering the power of VR Cycling.
VR workouts are very high-intense, Once you take the VR session then you'll definitely see the change.
Immersive VR Cycling Experience
Immerse yourself in captivating virtual reality landscapes and embark on thrilling cycling adventures from the comfort of your indoor cycling setup.
Interactive Training Programs
Enjoy interactive training programs tailored to your fitness level and goals, including interval training, hill climbs, and endurance rides, for a comprehensive and effective cycling workout.
Diverse Cycling Environments
Explore breathtaking sceneries, challenging terrains, and iconic cycling routes, bringing excitement and variety to your indoor cycling workouts.
Multiplayer Races and Challenges
Compete against friends or fellow cyclists in exhilarating multiplayer races and challenges, adding a competitive edge and fostering a sense of community.
1
Engaging and Motivating Workout
Virtual Reality Cycling transforms your indoor cycling sessions into immersive adventures, keeping you engaged, motivated, and excited about your workouts.
2
Enhanced Cardiovascular Endurance
 Experience an intense cardiovascular workout as you pedal through virtual landscapes, improving your cardiovascular fitness and endurance.
3
Variety and Exploration
Escape the monotony of traditional indoor cycling by exploring virtual worlds, cycling through different terrains, and discovering new routes and challenges.
4
Low-Impact Exercise
Cycling is a low-impact exercise that puts less stress on your joints while providing an effective full-body workout, helping to improve strength and burn calories.
For an unforgettable VR Cycling experience, contact us today! Call us at
(+91) 9319948720
Join Our Fitness Community
Our Diet n Fit app is a mobile application designed to help you achieve your fitness goals by providing personalized diet plans and exercise routines.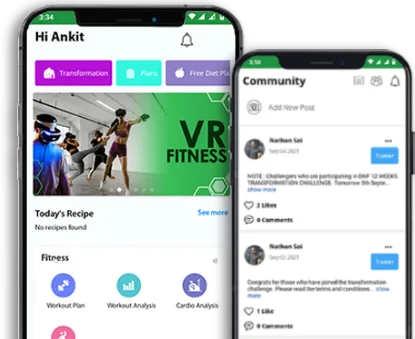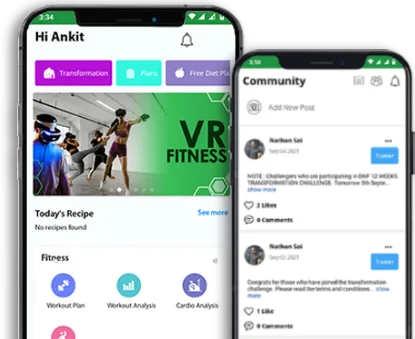 Is VR Cycling suitable for beginners?
Absolutely! VR Cycling caters to all fitness levels, including beginners. With adjustable difficulty settings and varied training programs, you can start at your own pace and gradually progress.
Do I need any special equipment for VR Cycling?
Yes, you will need a compatible VR headset and an indoor cycling setup. Our team can guide you on the recommended equipment to ensure a seamless VR Cycling experience.
Can I race against my friends in multiplayer mode?
Yes! VR Cycling offers multiplayer races, allowing you to challenge and compete against friends or other cyclists around the world in real-time virtual races.
Are there different terrains and routes to explore in VR Cycling?
Absolutely! VR Cycling offers a wide range of virtual landscapes, including scenic routes, challenging terrains, and iconic cycling locations, providing you with endless exploration and variety.
How does VR Cycling enhance the indoor cycling experience?
VR Cycling takes your indoor cycling to a whole new level by providing immersive visuals, interactive challenges, and multiplayer races, making your workouts more engaging, enjoyable, and motivating.